Charles Herring
10 November 2023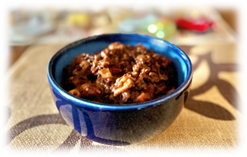 Background
I wanted to create a plant-based stew that I could cook every 7-10 days and heat up every day for lunch that had the following characteristics:
Tasty enough I wouldn't tire of eating it
Plant-based (no animal products)
High Protein & High Fiber & High Omega3/6 Fats
Low PRAL Score
High vitamin, mineral and phytochemicals
Ingredients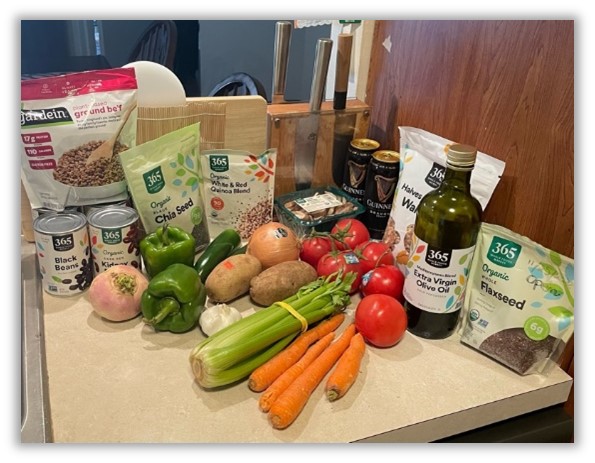 The recipe serves 10 to 12.
 

Base
1 bottle (750ml) of dry red wine
2 cans (30 oz) of Guinness Stout
8 Tablespoons of Chili Powder
3 Tablespoon Dried Oregano  
2 Tablespoon Dried Parsley
2 Tablespoon Dried Thyme
3 Tablespoons Dried Basil
2 Tablespoons Sage
½ Tablespoon of Black Pepper
2 Tablespoons unsweetened cocoa powder
1 Tablespoon ground mustard seed
2 Tablespoon celery seed
5 Tablespoons of liquid smoke
Stew Ingredients
¾ cup Olive Oil
¾ cup Soy Sauce
1 Peeled Whole Yellow Onion
12 Peeled Cloves of Garlic
2 Green Bell Peppers
1 Jalapeño Pepper
2 small Anaheim Peppers (or 1 large)
1 cup chopped carrots
1 Bunch of Celery
1 Bunch of Radishes (with greens)
5 ounces Shiitake Mushrooms
6 fresh Roma tomatoes
1 Russet Potato
1 Sweet Potato
1 medium beet
¾ cup mixed barley, peas & lentils
¾ cup short grain brown rice
4.5 oz of canned sliced black olives
Proteins
1.5 cup cooked Kidney Beans
1.5 cup cooked Garbanzo Beans
1 cup of raw Walnuts
1 cup of Quinoa
½ cup of Flaxseed
1 cup of Chia Seeds
16 ounces of cubed firm tofu (half inch cubes)
½ cup fortified nutritional yeast
Garnish Vegetables
½ cup frozen okra
½ cup frozen broccoli florets
½ cup frozen yellow corn kernels
½ cup frozen shelled edamame
½ cup frozen peas
Directions
Add Base Ingredients to 12-quart pot &bring to a boil for 1 minute then stir & turn off heat.
Purée onions, jalapeños, Anaheim peppers, garlic, radish greens, half the celery, & half the green peppers with olive oil & soy sauce in blender. 
Chop celery, green bell pepper, beets, carrots, radishes, potatoes and mushrooms. Chop should be approximately ½ inch thick.

 

Add Stew ingredients to pot. Bring to low boil for 2 hours stirring every 10 to 15 minutes.
Add Proteins to pot

and cook for 30 minutes.

Add Garnish Ingredients to pot and cook for 15 minutes.

Serve hot or store in refrigerator containers.

Reheat for 15 minutes on low heat when refrigerated.
30g diverse protein 
60% RDI or higher all essential Amino Acids
PRAL Score: -4.9 (Alkaline)
32 Vitamins & Minerals with more than 30% RDI
108% RDI of Fiber
Diverse Phytonutrients

Polyphenols
Carotenoids 
Flavonoids 
Resveratrol'
900% RDI of Omega-3 & Omega-6 fatty acids