Charles Herring
27 February 2021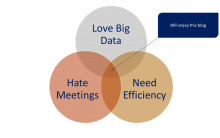 Brewers CAP Theorem
Computer Scientist, Eric Brewer, stipulated in the theorem that carries his name that you can have two out of three guarantees in distributed data storage with the guarantees being consistency, availability and partition tolerance. The limitations in Brewer's "CAP" Theorem are not only key in solving modern big-data challenges, they also are critical in solving big-business issues.
Business as a Data Lake
It may be that 6 years running hundreds of experiments across different data philosophies and platforms have created long-term trauma that makes every problem in life look like a big-data problem but I cannot help but notice some parallel lessons between data lakes and organizations.